10 min read
Find the Right Space at the Right Time: Selecting A Business Location

Christina Hersey Feb 3, 2023 8:30:00 AM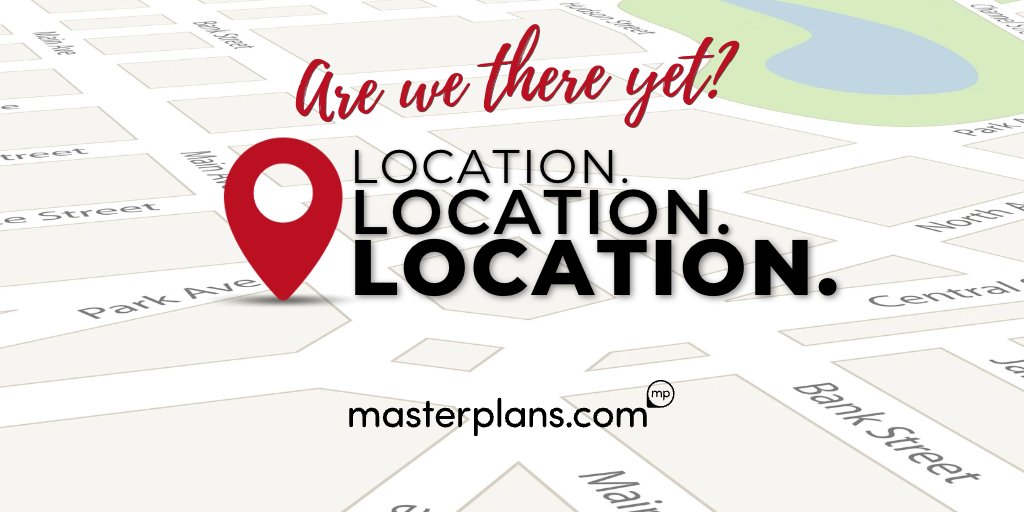 We've all heard the phrase: Location, location, location. Where you place your business is one of the most critical decisions you will make. If you are opening a consumer-facing retail or service-based business, where you operate could be the defining factor in your success.
But how do you know if a location is good? It largely depends on what type of business you're running and what your consumer demographics are. For example, a high-end furniture store will have a different ideal location than a payday lending store.
Have-To-Haves vs Nice-To-Haves
Before deciding on the best location, it's crucial to understand what your company actually needs. Sometimes it's helpful to think of it in terms of things you must have, things that would be nice to have, and things that are deal-breakers. I always think the best place to start is the must-haves.
First and foremost, consider how much space you need. Since rent is typically calculated on a per-square-foot basis, the larger the space, the more costly it becomes. But, keep in mind that the price per square foot may decrease with larger spaces, similar to bulk purchasing.
A lease is a long-term commitment. Typically, landlords seek a term of at least five years. So, when evaluating a space, think about your future plans and choose a space that can accommodate growth. But be wary of taking on too much space. It's wasteful to pay rent on square footage that goes unused, especially early on. Those types of cash flow decisions can make or break your business.
This presents an opportunity to think outside the (literal) box. Could you augment your storefront with a storage unit so you're not wasting floorspace on boxes? Can you use vertical storage to maximize your footprint (you're paying for the square foot, not the cubic foot!)? Can you employ a remote- or hybrid-work model to reduce the size you need? Can you sublet part of your space to a complementary business? A note to the wise: if you choose to enter into a shared leasing situation, make sure you put everything in writing.
A second "must-have" consideration is proximity. The kind of business you operate will determine this, and zoning laws may also play a role. Determine whether your company is a destination business. In other words, is your product or service something that your customers are willing to travel for? If you're opening the only tile store in town, you probably don't need to worry as much about placement. But if you're a high-end boutique tile shop, you may want a showroom in your city's trendy neighborhood.
Your final, and possibly most important "must-have" consideration is your budget. Many business owners become preoccupied with the monthly rent component of the equation. We challenge you to think of it differently: how much do I need to make in revenue to afford this space? In other words, consider rent as a percentage of revenue rather than just dollars. What portion of your income should go to rent and utilities depends on your business, but as a very general rule, rent should be between 5% and 15% of your total income.
Researching industry benchmarks can be a helpful way to determine a reasonable rent expense for your business (our favorite is IBISWorld). Remember that these are guidelines, and while keeping your expenses low is important, the most important budgetary question to answer is what will allow you to be profitable.
Know Your Customer
Figuring out what demographic characteristics are ideal for your company can be challenging, but every entrepreneur should have a firm grasp of this before entering business. "Know Your Customer" is a foundational trait of a successful business, because the answer is never "everyone."
Narrow down the demographic traits of the people that make up 80% of your likely customer base, and then search for areas of your city or town that match those characteristics. Of course, your business will cater to customers that come from areas outside your neighborhood, but the majority of your customers as a brick-and-mortar business will live nearby, so you want to position your storefront ideally to capture the correct demographic.
There are several ways to determine the ideal demographic traits of your customer group, the first and most obvious being a simple Google search: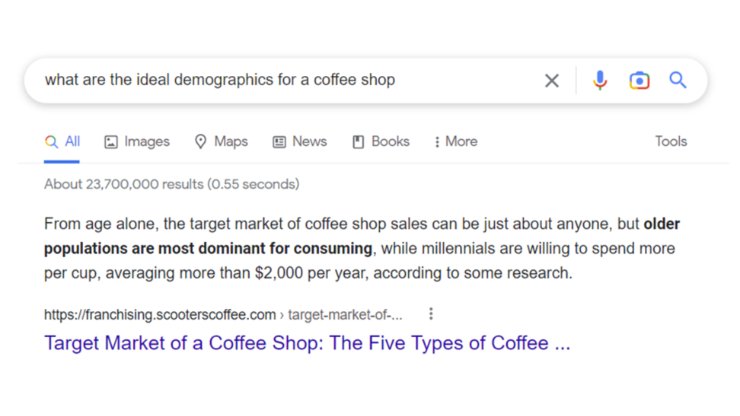 This simple search yielded several high-quality articles that cite primary sources about the ideal customer demographics for coffee shops. It won't always be that easy, depending on what your business sells, but typically the information is available.
If an internet search fails you, the next steps we recommend are:
Join an industry association
Join a local business networking group, like the Chamber of Commerce
Conduct informal polls of people in your friend group
Another quick way to get a sense of commercial real estate properties in your area is to use a listing service like Loopnet. Loopnet allows you to search for properties that are for sale and lease. You can sort by use, size, and other criteria. Because real estate agents use sites like Loopnet to promote their listings, you can often view flyers about available properties with demographic and other information. This is also a great way to get an idea of what different sized spaces will cost based on their locations.
Know Your Competition
When choosing your location, it can be tempting to place your business as far away from direct competitors as possible so that you can be the only option for customers within a geographic area. But this isn't always a winning strategy. Think about it this way: how often have you seen a Chipotle located kitty-corner from a McDonald's? What about a Home Depot in the shopping center across the intersection from a Lowe's? A Target near a Wal-Mart?
The fact is that these big corporations purposefully place their locations near competing businesses because they've learned what many entrepreneurs haven't learned yet: customers want variety. If they don't see what they want at Home Depot, they are highly likely to cross the street to check Lowe's. As a mom of two children, I can attest that I have had to stop at McDonald's and then go across the street to Taco Bell just to satisfy my kids' different wants. Think about shopping malls: within one corridor in one mall, you will find three clothing stores catering to the 18-35 age group because customers love to be able to stroll from one store to another. I live in a small walkable neighborhood in Portland, Oregon, and there are seven thriving coffee shops all located within an easy one-mile radius of my house. I love it, because I have options.
Just remember: if no one's offering your product or service in an area, that probably means that there isn't enough demand to support that type of business there. That said, as a start-up business, there can be wisdom in putting a little bit of distance between your storefront and a major competing chain. If you're struggling to decide between two locations, mapping your competitors can be a helpful exercise. Just bear in mind that your goal isn't necessarily to avoid competition. Instead, take a look at the existing competition within an area as an indication of the level of consumer demand there and then ask yourself if your products and services can stand out against the competitors' offerings in some meaningful way.
Find the Next Big Spot
It will cost more to operate a business in a location that already has high foot traffic and household incomes. Sometimes it makes more sense to move into a developing area while rents are low rather than pay a premium to be in a more established part of town. So, how do you spot the next big thing? You know your area as well as anyone, so your instincts can be a good place to start. You can also inquire with your city's development office to see if any areas are slated for transportation or infrastructure improvements. Always keep up with local news and keep an eye out for new developments and investments in your area. Finally, don't be shy about seeking advice from others. The way your friends and coworkers talk about the recent changes in their area can give you insight into its potential for development.
What Data Matters?
Again, this depends heavily on the type of business you're starting. But generally speaking, income is one of the most important factors. You need to make sure that there are enough households in your target income bracket to support your business. Age is another important factor, especially if you're opening a business that caters to adults only, like a bar. For some businesses, knowing what type of job your customer base works is important. For those selling heavy-duty work clothes, it's important to make sure that your area is home to plenty of blue-collar workers.
Traffic Counts
Vehicular traffic counts aren't our favorite way to analyze a site, but they do matter.
There are several challenges with using this method, including:
Finding accurate and recent data
Accounting for differences in geography, and
The value of the traffic count varies based on which side of the road your business is on
Information on ideal traffic counts for specific industries is typically kept secret by corporate site planners, and each has their own idea of what is best for their brand. But if you can find information online about the minimum viable traffic counts for your type of business, you can use this to make sure that the location you're considering has enough traffic to support your business. A quick search did not yield helpful information regarding the ideal traffic counts for a coffee shop, but I did learn that the best daily traffic count for a convenience store is between 5,000 and 15,000 vehicles per day.
Demographics
Now that you know what type of demographic and traffic data you're looking for, you need to know where to find it. Here at Masterplans, we are huge fans of ESRI's Business Analyst Online tool, and we use it on nearly every locally-based business plan we write.
Unfortunately, an ArcGIS subscription is typically out of the price range of the average entrepreneur who is just opening one storefront, especially those just trying to scout options. ESRI allows us to pinpoint a location and choose a radial analysis with customizable distances in miles, drive time minutes, or even walk time. We can find information on traffic counts and consumer spending on almost any category you can think of, compared with the national average to give context to the data.
We do not have a free site to recommend that can handle the in-depth analysis that ESRI offers. But, you can use the Census Bureau data to find out information about the people living within a zip code, including total population, age and sex, education, employment, and income. Census Bureau data is highly detailed, but not always user friendly.
For this reason, I sometimes recommend sites like Sperling's Best Places or Niche, which take Census Bureau data, remove the filler, and make it more visually appealing. But, just like the Census Bureau website, you cannot use these sites to plug in an address and find detailed information on the population living within a 10-minute, 20-minute, and 30-minute drive, like you can with ESRI.
For traffic count data, the best place to go is to your state's department of transportation, although once again, this data can be hard to comb through.
Consult a Commercial Real Estate Broker
If you haven't yet begun working with a commercial broker, now might be the time to begin developing this relationship. Brokers usually have access to demographic data for the properties they represent. This source can be a little less trustworthy, because they're trying to sell you something. Whenever possible, it's best to rely on neutral third-party sources, but if all else fails, you can use the data the broker provides.
Keep Your Eye Out For Potential Problems
When picking a location for your business, be thorough! You need to spend time observing the site in order to find out about potential problems. So park your car in the parking lot and plan to just hang out for a while. Take along a visually observant friend if your powers of observation aren't fantastic. Be on the lookout for pest problems, crime problems, and anything else that might be a red flag. Have an inspector check out the storefront itself to make sure there are no structural issues that can cause a problem down the line. Finally, if it is not new construction, look for any online reviews you can find of the previous business that occupied the space. You never know what you may learn about the structure itself!
Can your customers find you (& once they do, find parking)?
The introduction of real-time mapping has made finding businesses easier than it used to be, but being noticeable remains an important factor in site selection. If your business is set back from the street or in a difficult-to-find location, it may discourage customers from seeking you out.

The same holds true for making sure there is visible signage, especially at night. How many times have you driven by a business thinking you should check it out before finally going? Your location is an important part of your marketing strategy.

Finally, take a look at the parking situation. This may not be an issue for some businesses, such as coffee shops, where the majority of customers walk and the product is small and light-weight. For others, however, having a convenient and accessible parking solution can mean the difference between success and failure. This is especially true for appointment-based, dining, or pickup businesses where customers expect a smooth and hassle-free experience. Nobody wants to circle the block several times to pay $5 in parking for a $20 pizza.
Borrow Intel From the Experts
Some of the site analysis tools we have mentioned are expensive, but America's largest enterprises go a step further, holding proprietary information that they use to choose prime locations for their establishments.
For this reason, you can be fairly certain that a shopping center that is home to a Starbucks, a Target, and a Chipotle is targeting upper-middle-income families with children that live an on-the-go lifestyle. If the shopping center is home to a Sephora, P.F. Changs, and Banana Republic, you're looking at a high-income neighborhood where residents can afford to spend a little more. If your shopping center has a Goodwill, Dollar Tree, and McDonald's, you know that this neighborhood will have a lower income customer base. The big players have already done the analysis for you, and their longevity points to the validity of their bet on a specific site. You can use the intel you gained from the vote they made with their money to determine whether the local area matches your target demographics.
can Old be Made New again?
There are pros and cons to renovating an existing building or starting from scratch, so it's important to weigh all of your options before making a final decision. Renting a space that was previously occupied by a similar business can result in lower build-out costs. You can even be the fortunate recipient of some of the previous tenant's customers.
However, if the previous venture (or ventures) failed, you should investigate why so you don't repeat the same mistake. Indeed, bankers we work with tell us that lenders take the previous tenant into account during the underwriting process. If you're looking at a space that had a previous tenant, read online reviews to see if location, parking, and other factors played a role in its failure. And, if you intend to get a bank or SBA loan, be prepared for the bank to inquire about the space's history.
Older buildings may lack modern conveniences such as air conditioning and adequate electrical. A general contractor's assessment of a potential commercial space is a smart idea before making a commitment, much like having a mechanic inspect a used car before you buy it.
Tenant improvement allowances (TIAs), which are offered by many new buildings and some older ones, let you alter the interior to your specifications. Keep in mind that when utilizing a TIA, you will typically be required to front the money for the upgrades before getting reimbursed by the landlord.
It's Not Easy, But it's Worth The Effort
Choosing the right location for your business is a big decision, so it's important to put time and effort into it. However, while demographic data and expert opinions are useful, the final decision of where to set up shop is ultimately up to you.
Keep in mind that landlords and real estate brokers will be looking out for their own interests, so be sure to double-check the information they provide. They may also put pressure on you by setting deadlines and mentioning that other businesses are interested in the same space, so be prepared for that.
But remember, there's no such thing as the perfect location. It's always about balancing the pros and cons. With hard work and ingenuity, you can make just about any location work for your business.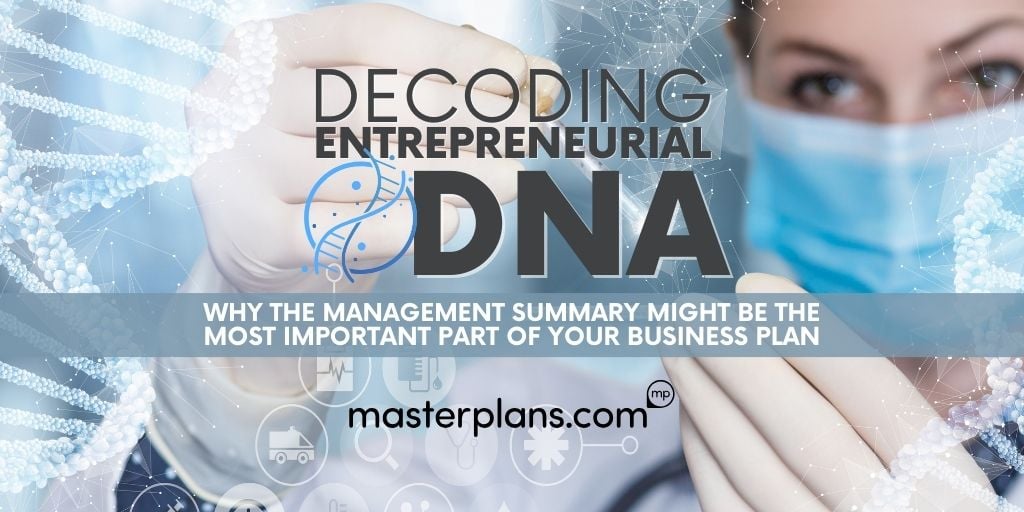 Entrepreneurs are often celebrated for their uncanny ability to understand others – their customers, the market, and the ever-evolving global...
Read More